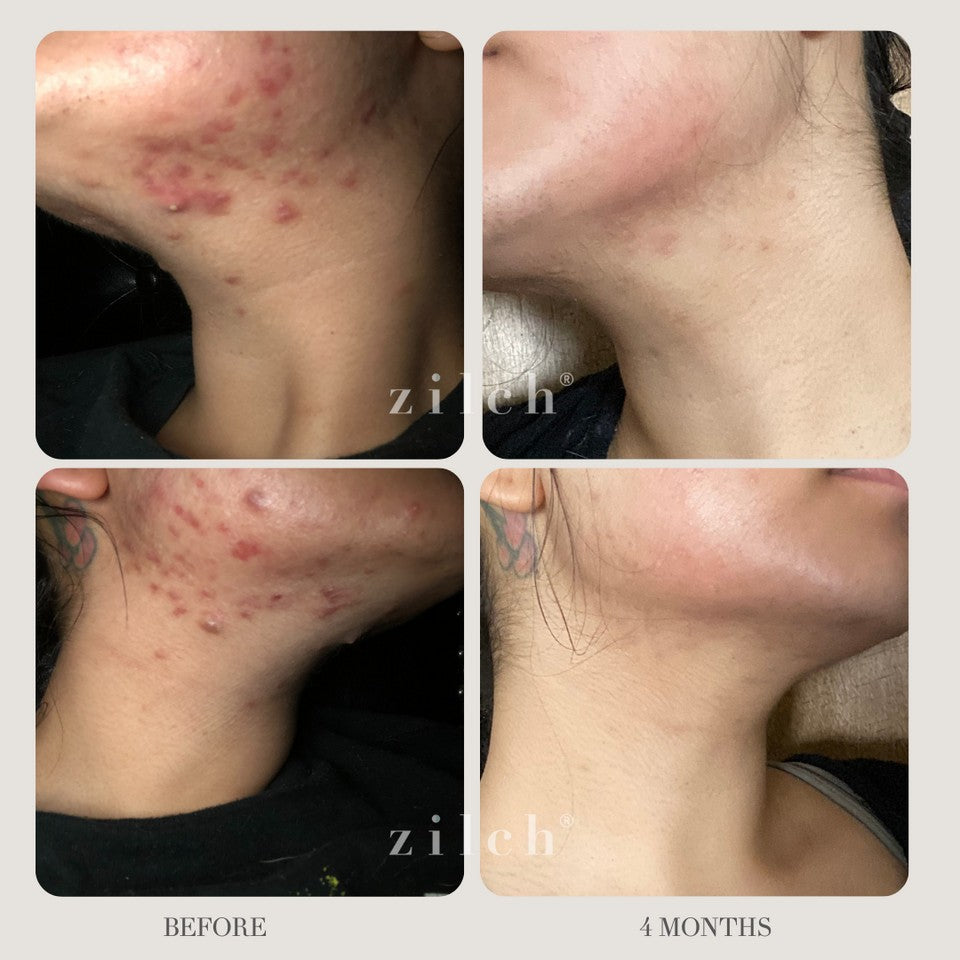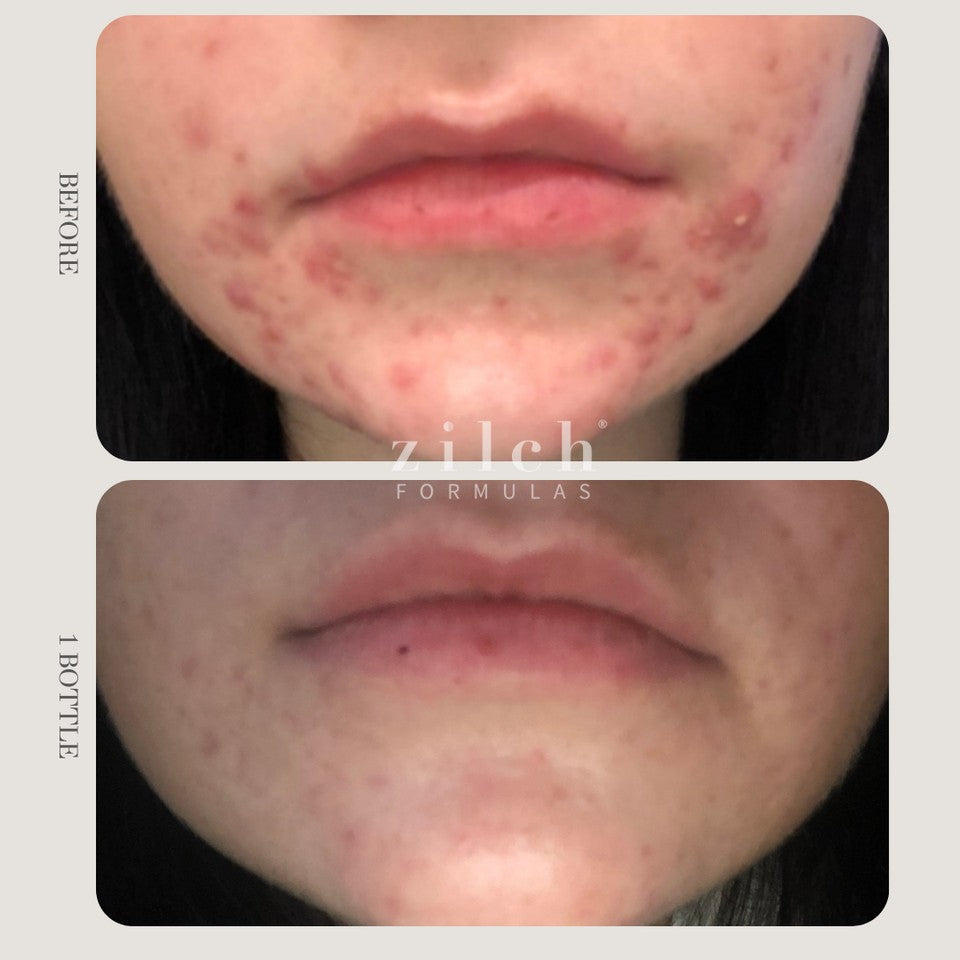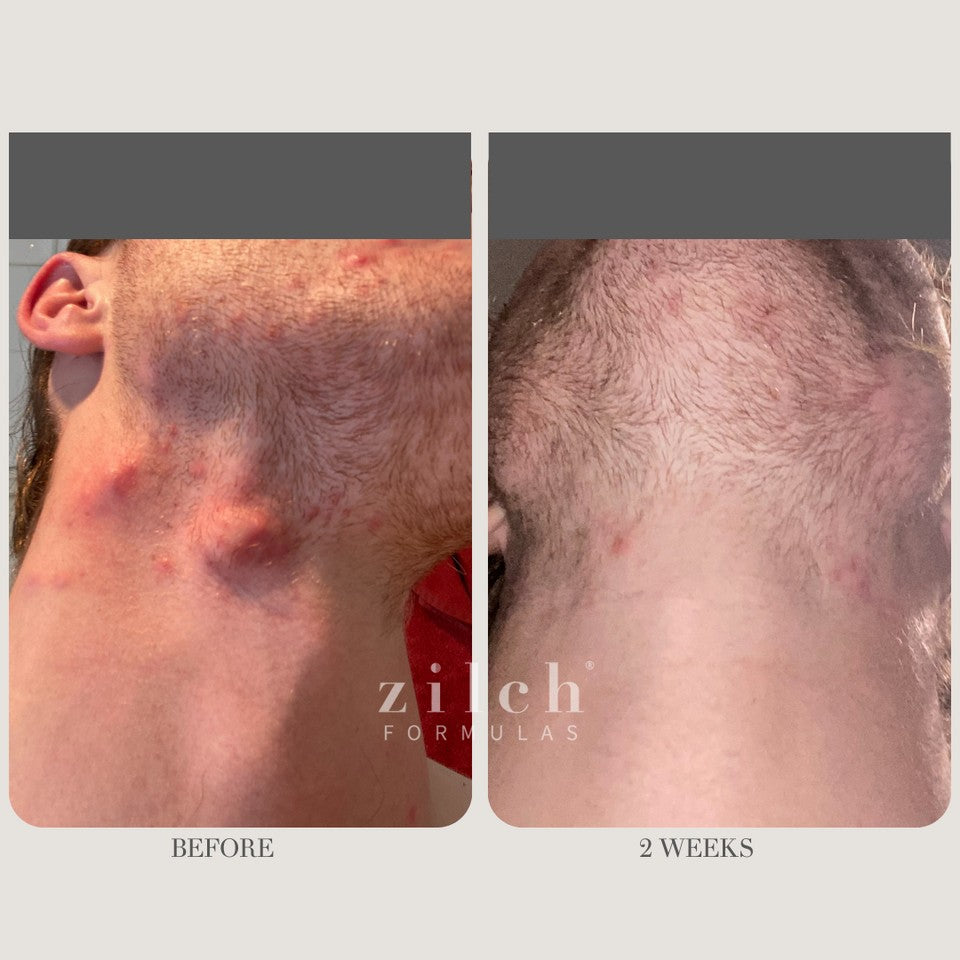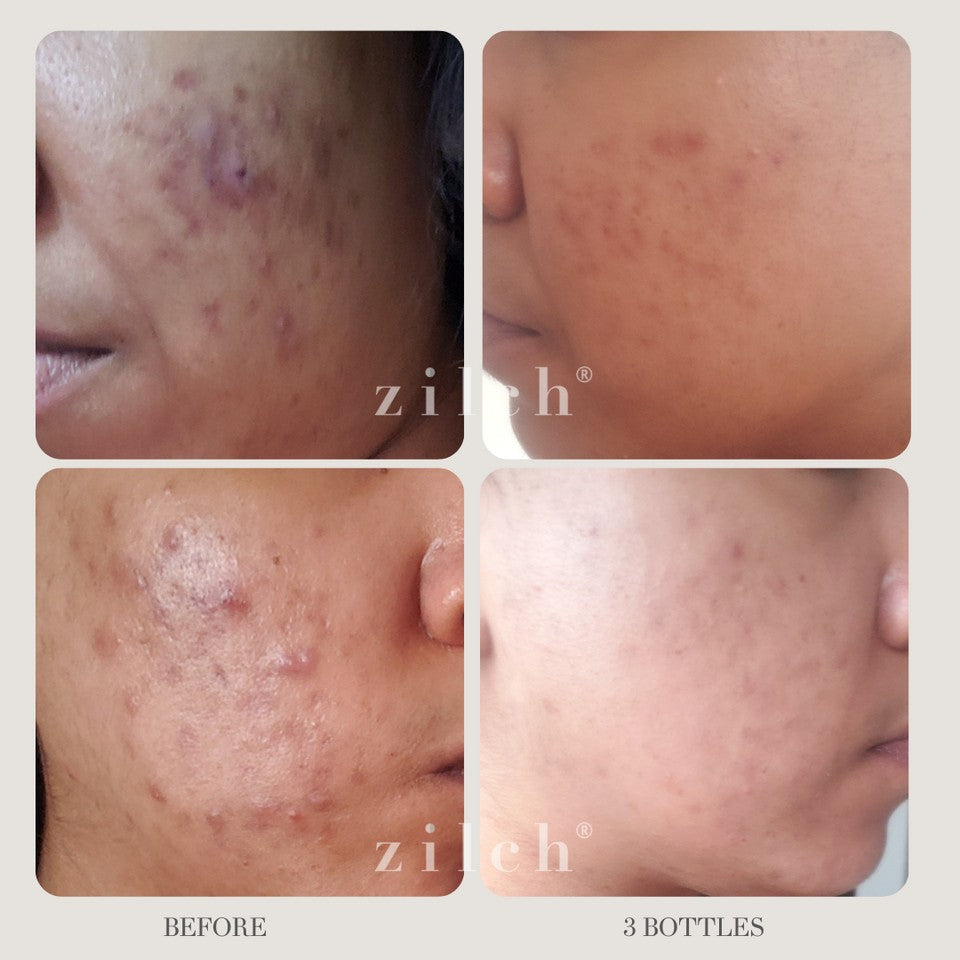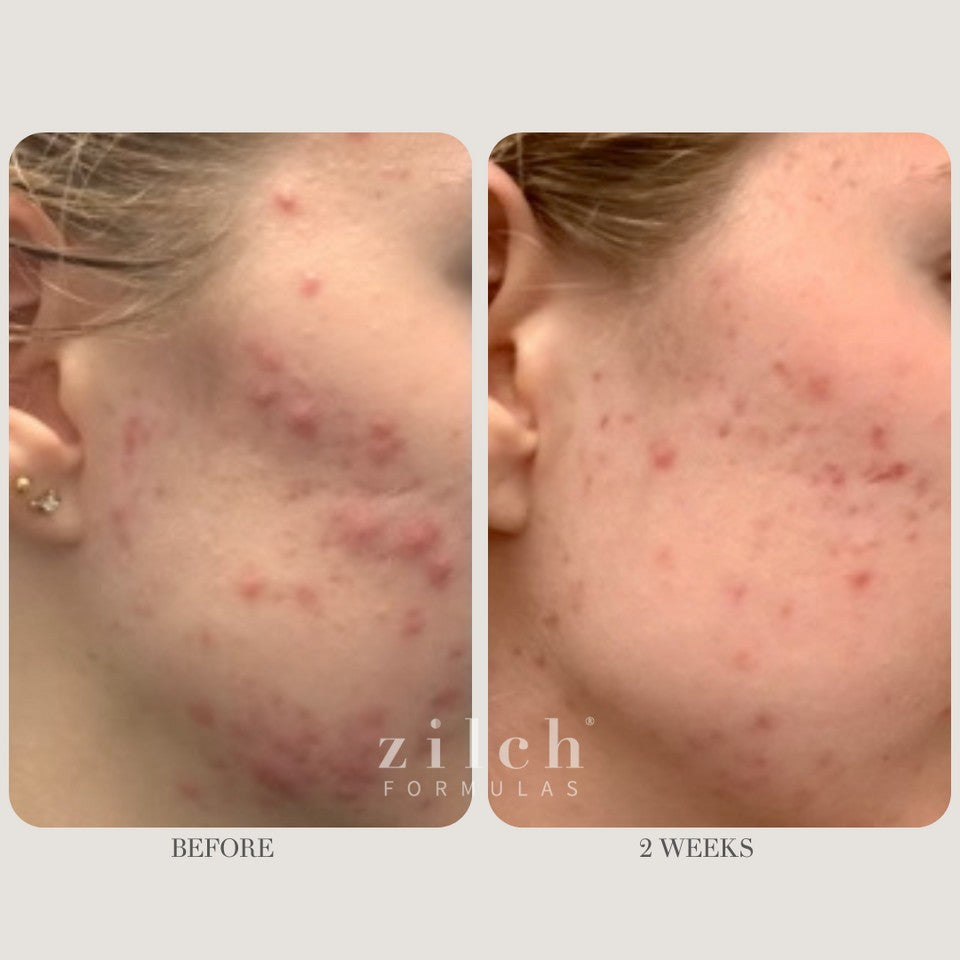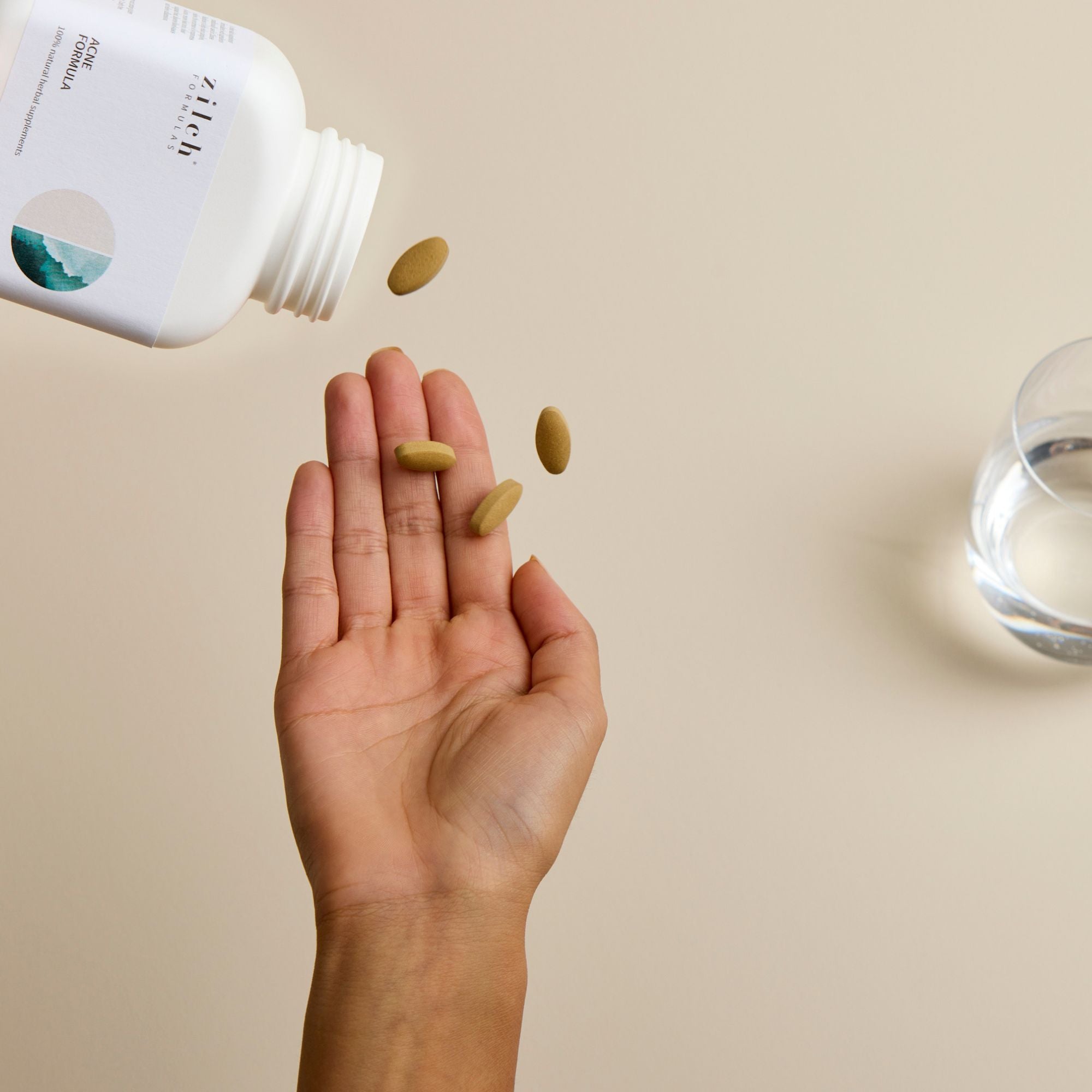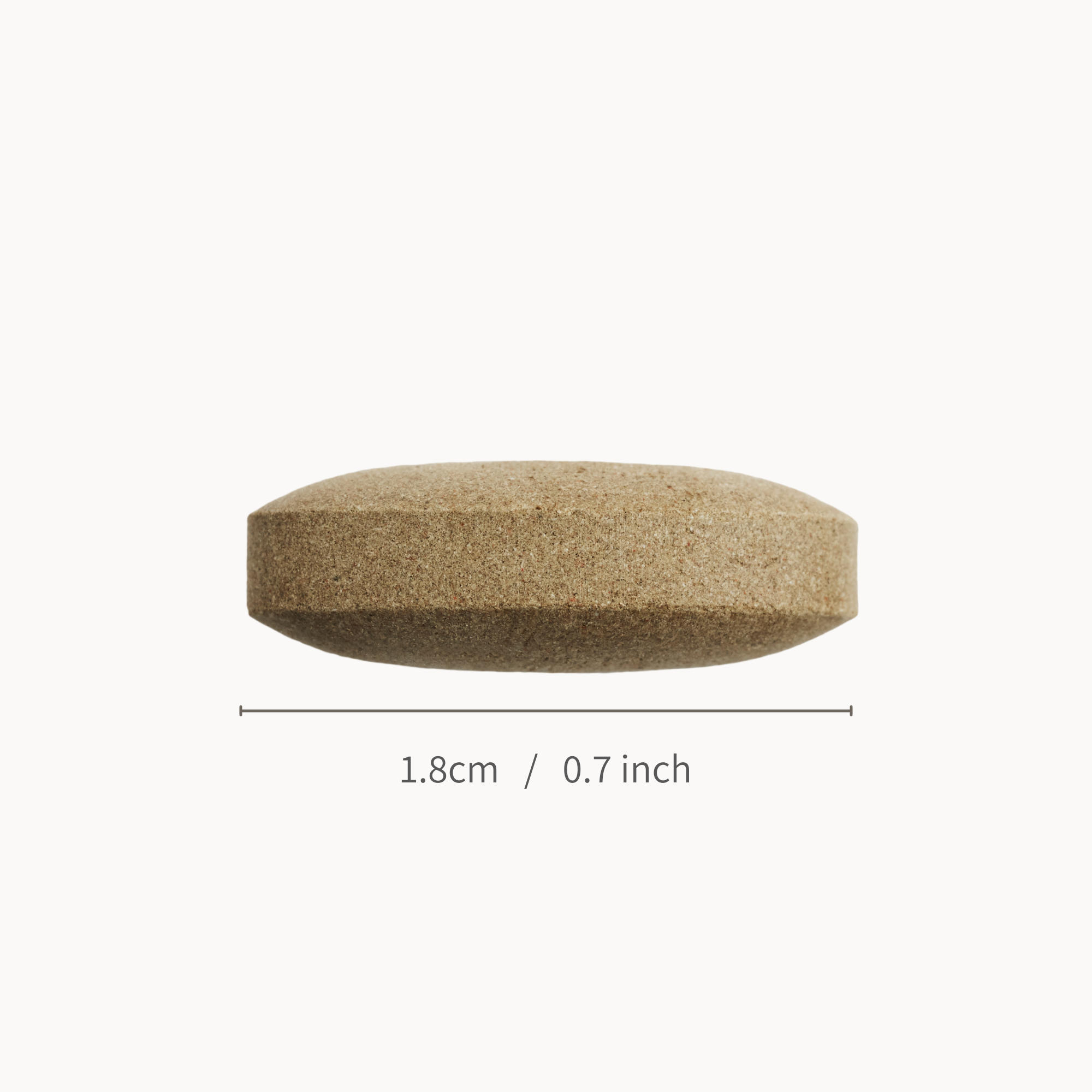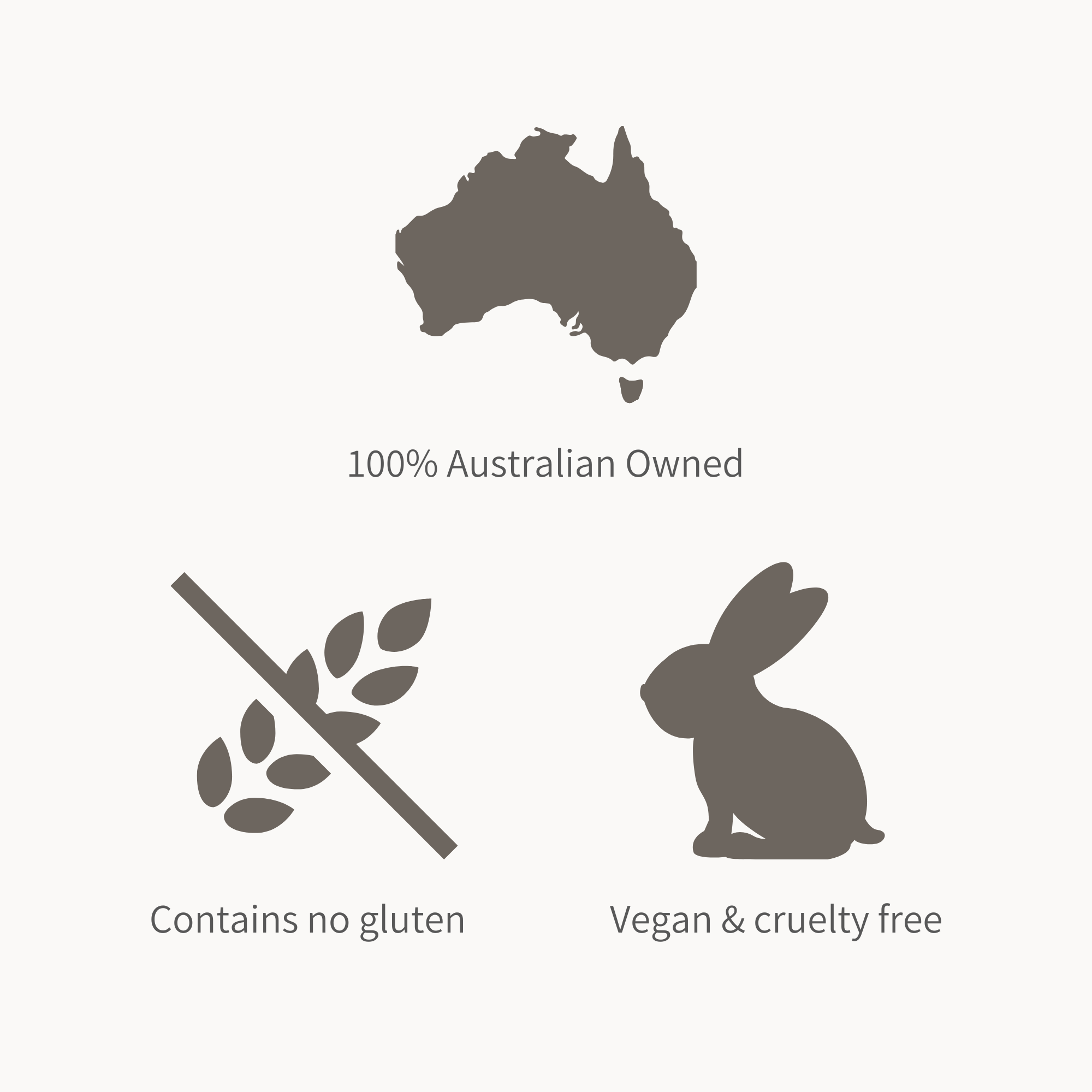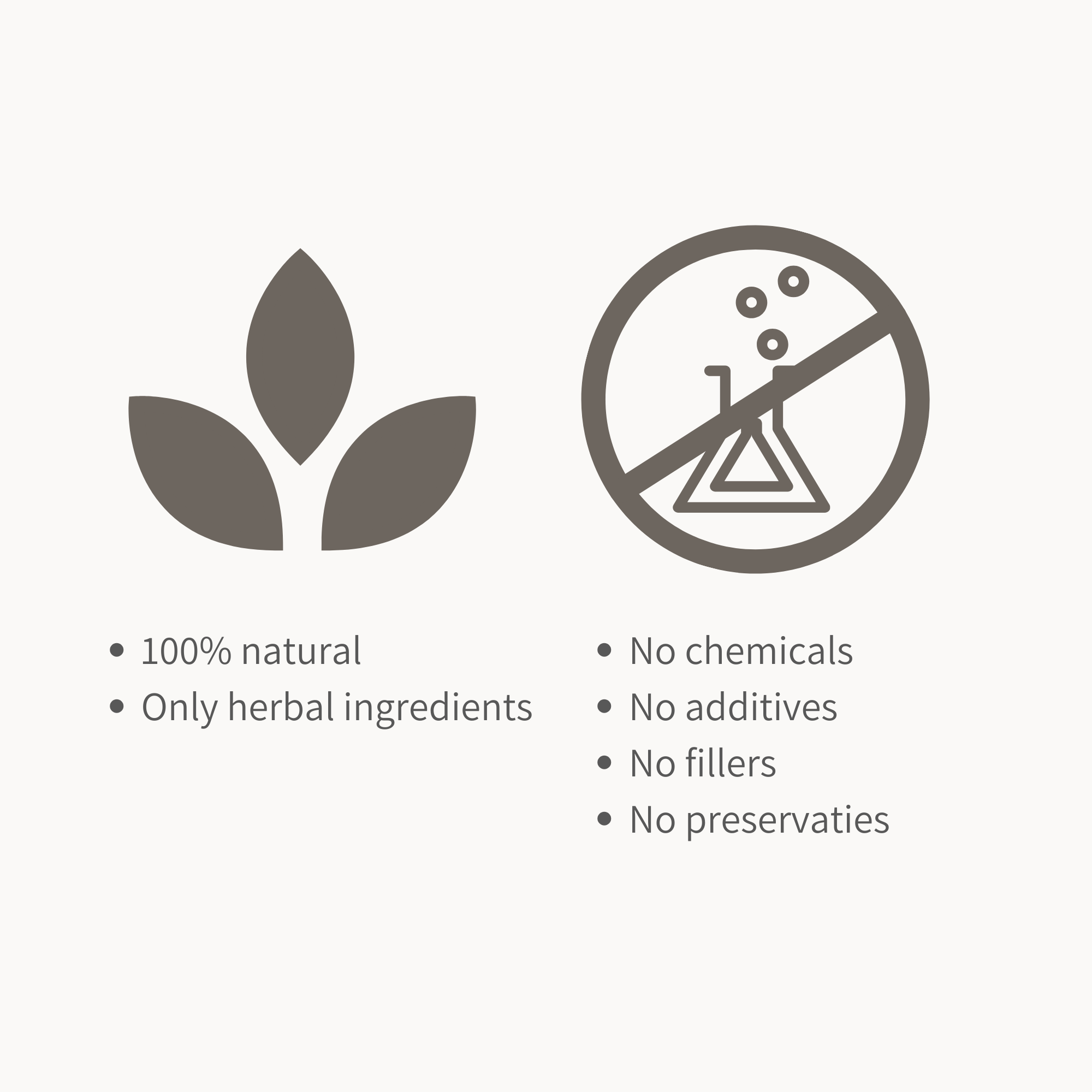 "Zilch saved my skin after nothing else did! I am slowly becoming confident being make-up free."
Skin Formula
Sale price

$119.00 USD
Regular price
(/)
---
FORMULATED BY INDUSTRY LEADING DOCTOR OF CHINESE MEDICINE, DR. VIVIAN TAM.
US Shipping: Temporarily shipping from Australia. All orders to the U.S are temporarily being dispatched from Melbourne until further notice. Estimated arrival is 6-10 business days. 
Clear Skin from $2 a day.
---
Zilch Skin Formula –clearly different.
[known as Zilch Acne Formula globally]
One bottle contains 240 x 750mg tablets (30 - 60 day dose).
A clear skin supplement formulated with traditional Chinese herbs to help reduce pimples, relieve the occurrence of non-cystic acne, and to maintain healthy circulation.*

• Patented formulation that helps acne from the inside out
• Designed to provide long-term changes
• Formulated with 15+ years clinical experience
• 100% natural– only Chinese herbal active ingredients
• Ingredients do not contain gluten
• No nasties, fillers, chemicals, drugs or preservatives
• Vegan and cruelty free, always
• Australian owned


* These statements have not been evaluated by the Food and Drug Administration. This product is not intended to diagnose, treat, cure, or prevent any disease.
ACNE TYPES & INDICATIONS

Zilch Skin Formula may assist with:
• Deep under-the-skin blemishes
• Whiteheads (pimples that come to a head)
• Acne resulting from coming off the pill
• Hormonal acne
• Adult acne on jawline, chin, cheeks and temples
• Stubborn acne that has not responded to other treatments
• Body acne (chest, back, shoulders, buttocks)
• Closed comedones (clogged skin)
INGREDIENTS

Zilch Skin Formula is made up of 17 herbal ingredients, and potato starch as a binder. No added preservatives, chemicals, fillers or nasties.

Active ingredients: persica peach kernel, safflower, red rooted sage root, hedyotis plant, angelica fragrant root, gleditsia plant spine, viola plant, dandelion plant, honeysuckle flower, phellodendron bark, tree peony root bark, gardenia fruit, gentian scabrous root, baikal skullcap root, ginger rhizome, dong guai root, licorice root.

Non-active ingredients: potato starch.

Visit our ingredients page to learn more.
CAUTION

Individuals taking anticoagulants or individuals at risk of bleeding problems should seek medical advice before taking Zilch Skin Formula. Do not use if pregnant or likely to become pregnant and please consult your medical practitioner before starting on Zilch Skin Formula if you are breastfeeding.

In the event of any adverse reaction, discontinue and consult a physician. Keep out of reach of children.


For information regarding taking other supplements or medications, please visit our FAQ page.

ALWAYS READ THE LABEL AND FOLLOW THE DIRECTIONS
FOR USE.


Medical disclaimer:
All content and information on this website is general in nature and does not intend to constitute medical diagnosis, medical treatment and medical advice. Our product(s) is not an individualised product (it is not a product that is tailored specifically to you) and all information provided is not a substitute for medical advice and is for general in nature.

Please consult your medical practitioner or doctor if you have any queries before taking this product, continuing this product or if you have any questions about medical conditions.

We cannot give any specific or personalised advice. For advice specific to you (eg: ingredients and allergies, current symptoms and medical conditions), please consult your healthcare professional.

No content about this product is designed to be misleading.

Reactions/allergies to any ingredient(s) in our product(s) is possible, as is reactions/allergies to any ingredient in any goods. Individuals are advised to seek medical advice from your healthcare practitioner or doctor if there are any concerns before starting our product(s).
DOSAGE

Take 6 tablets once a day, or as recommended by a health professional.
Maximum recommended dosage 4 tablets twice a day.

Take at least 20 minutes away from food. (Eg: 3O minutes, or two hours away from meals).
If you have a sensitive gut, try taking 20 minutes after a meal.

For ages 14 and up.

Store below 86°F.
SHIPPING

US Shipping:
***Temporarily shipping from Australia***
All orders to the U.S are temporarily being dispatched from Melbourne (Not CA) until further notice. Orders are shipped next day.

- FREE shipping on orders over $100
- $5 Flat rate for orders under $100

We do not collect, and are not responsible for any duties or customs for international purchases. Please check the rules in your countries regarding imports; you will be responsible to pay this in your country if extra charges do apply. 

Our full shipping policy is here. Please read before purchasing.
WHEN WILL I SEE RESULTS?

Q: WHEN CAN I START TO SEE RESULTS?
A: Most users will notice changes within the first 2 weeks, with more significant changes by week 3-4.

Q: HOW LONG WILL IT TAKE UNTIL MY SKIN IS CLEAR?
A: Clear skin may be achieved as quickly as 4-8 weeks of use. Results may vary from individual to individual.

Q: WHAT CHANGES CAN I EXPECT FROM TAKING ZILCH SKIN FORMULA?
A: You can expect quite a number of changes to your skin as your acne heals. Your acne may:
• look less red
• feel less sore and inflamed
• feel less deep
• come to a head easier
• heal faster
• break out less frequently and severely
You may also notice your skin doesn't feel as oily or bumpy, and is smoother to touch.

Q: HOW LONG SHOULD I TAKE ZILCH SKIN FORMULA FOR?
A: This product is designed to be long term solution. When the skin is clear, you should be able to stop taking Zilch Skin Formula.
OUR MOST FREQUENTLY ASKED QUESTIONS

Q: WILL MY SKIN PURGE? WILL MY SKIN GET WORSE BEFORE IT GETS BETTER?
A: Zilch Skin Formula is not designed to make your skin worse before it gets better. A very small percentage of users report an initial purge period of 7-10 days before acne begins to improve. This should be mild and temporary. Please consult your healthcare practitioner if you are concerned. If the purge period does not subside after 10 days, please discontinue use.

Q: WHY DO YOU HAVE TO TAKE SO MANY TABLETS IN A DAY?
A: At the heart of all our formulas is efficacy – it matters that what you take genuinely makes a difference.
Our tablets only contain pure herbal extracts and are not synthetically derived. The reason for the recommended dosage is simple: it's about getting the right, therapeutic amount of these potent herbs into your system. Just like with any quality product, it's not just about having the right ingredients but also about having them in amounts that yields results.

Q: CAN I TAKE ZILCH SKIN FORMULA WHILE ON OTHER ACNE MEDICATIONS SUCH AS ISOTRETINOIN OR ANTIBIOTICS?
A: There is no known contraindication with other common acne medications. If unsure, please consult your doctor before using Zilch Skin Formula. Please read label and view medical disclaimer before use.

_____

Want to keep learning? Read more frequently asked questions on our FAQ page.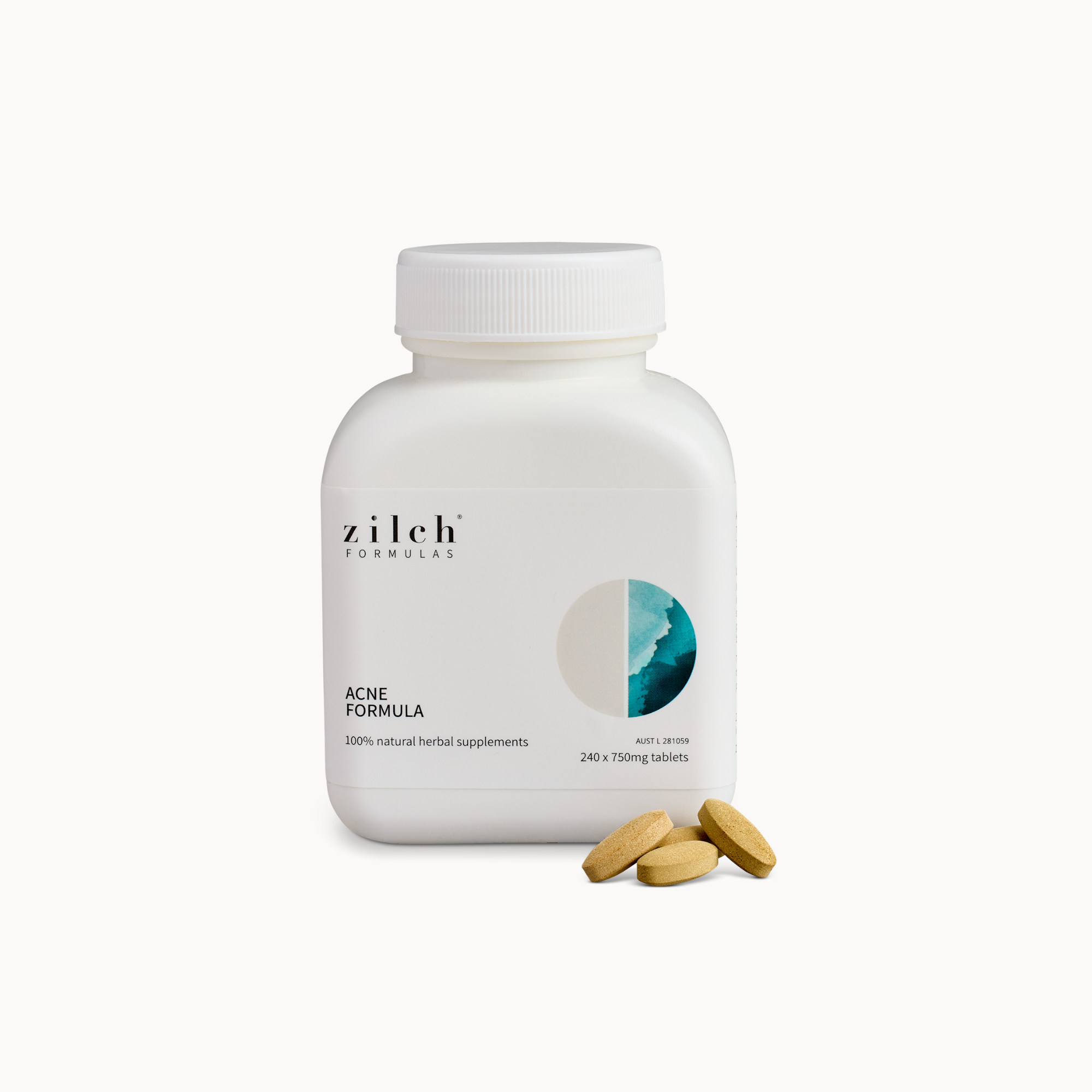 Skin Formula
Sale price

$119.00 USD
Regular price
Choose options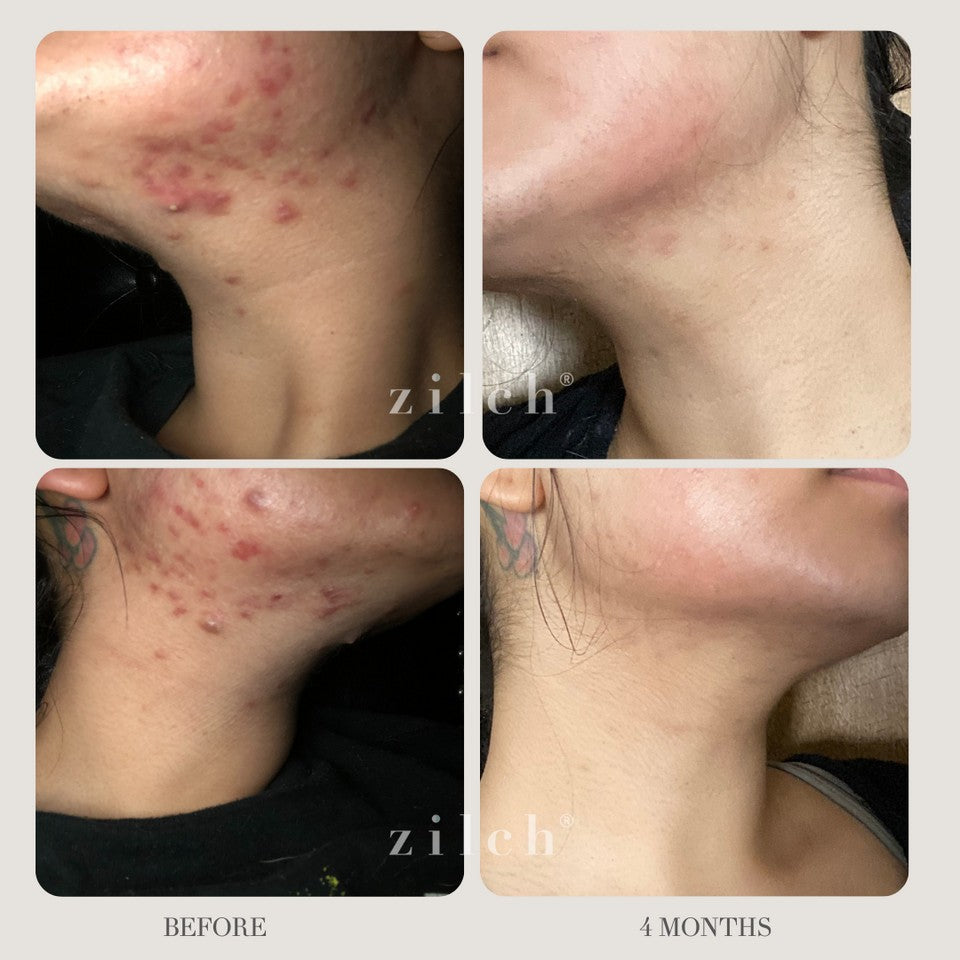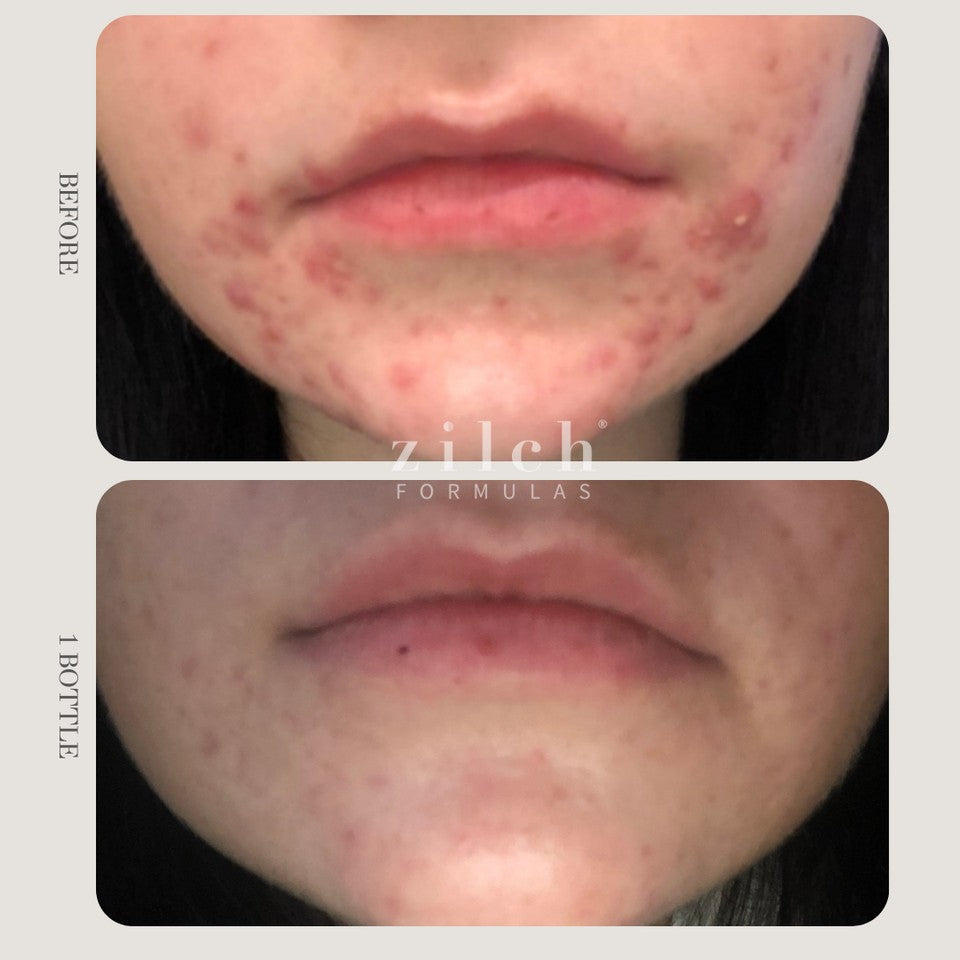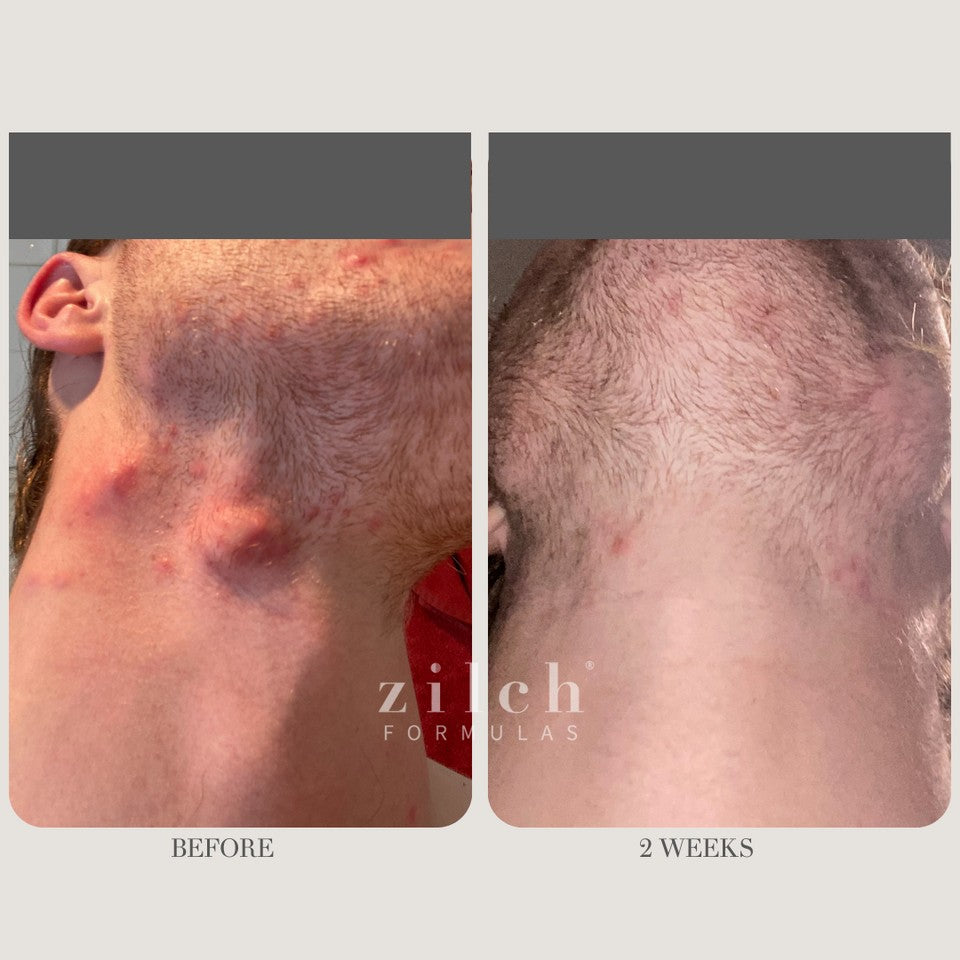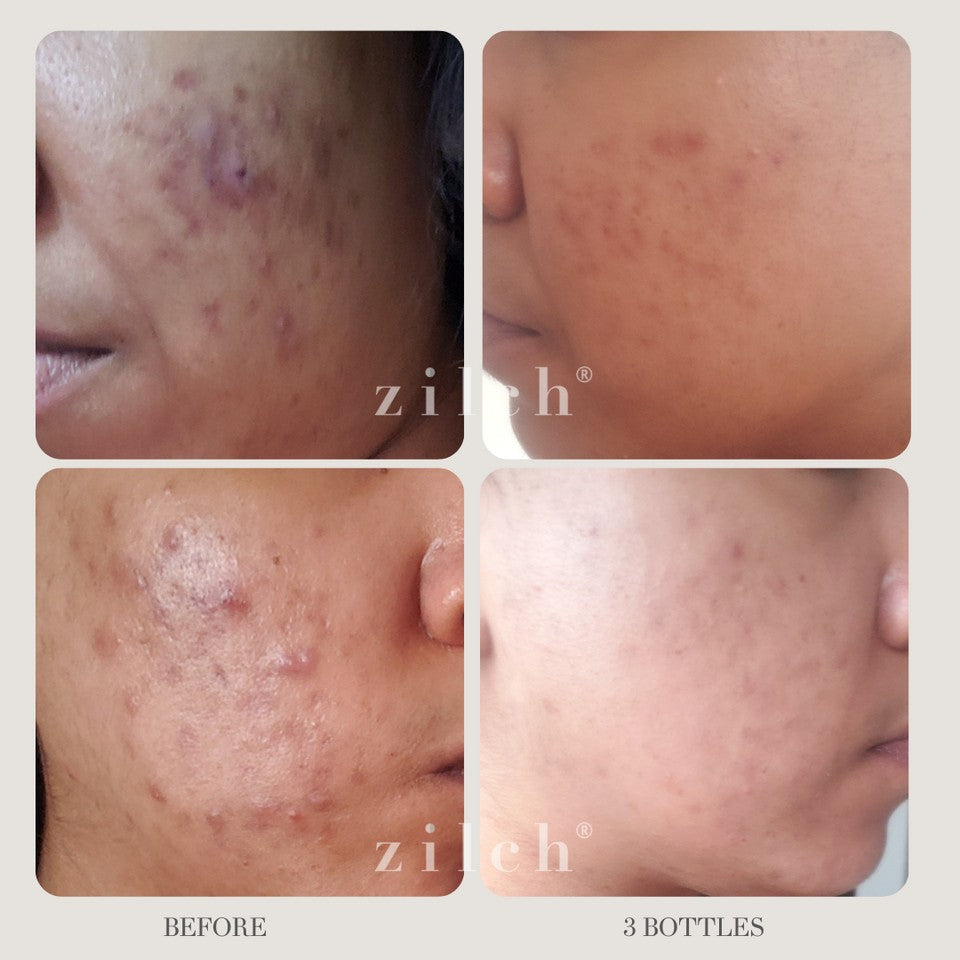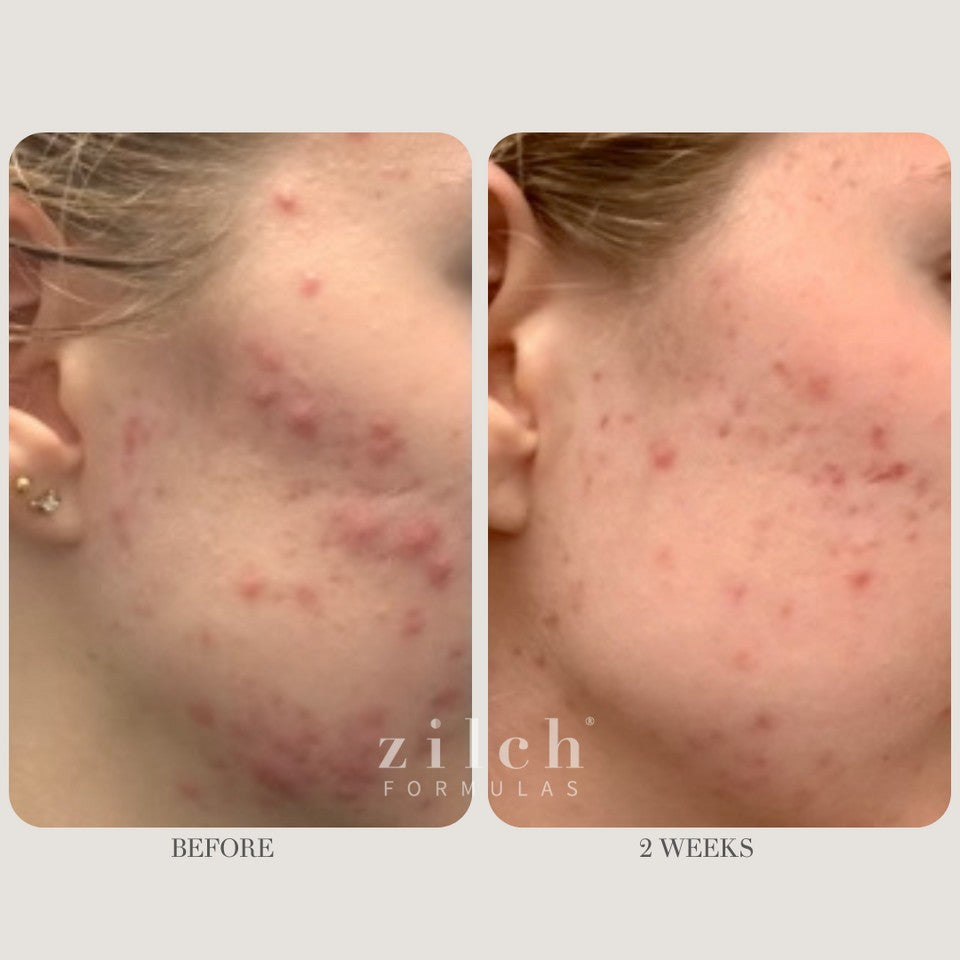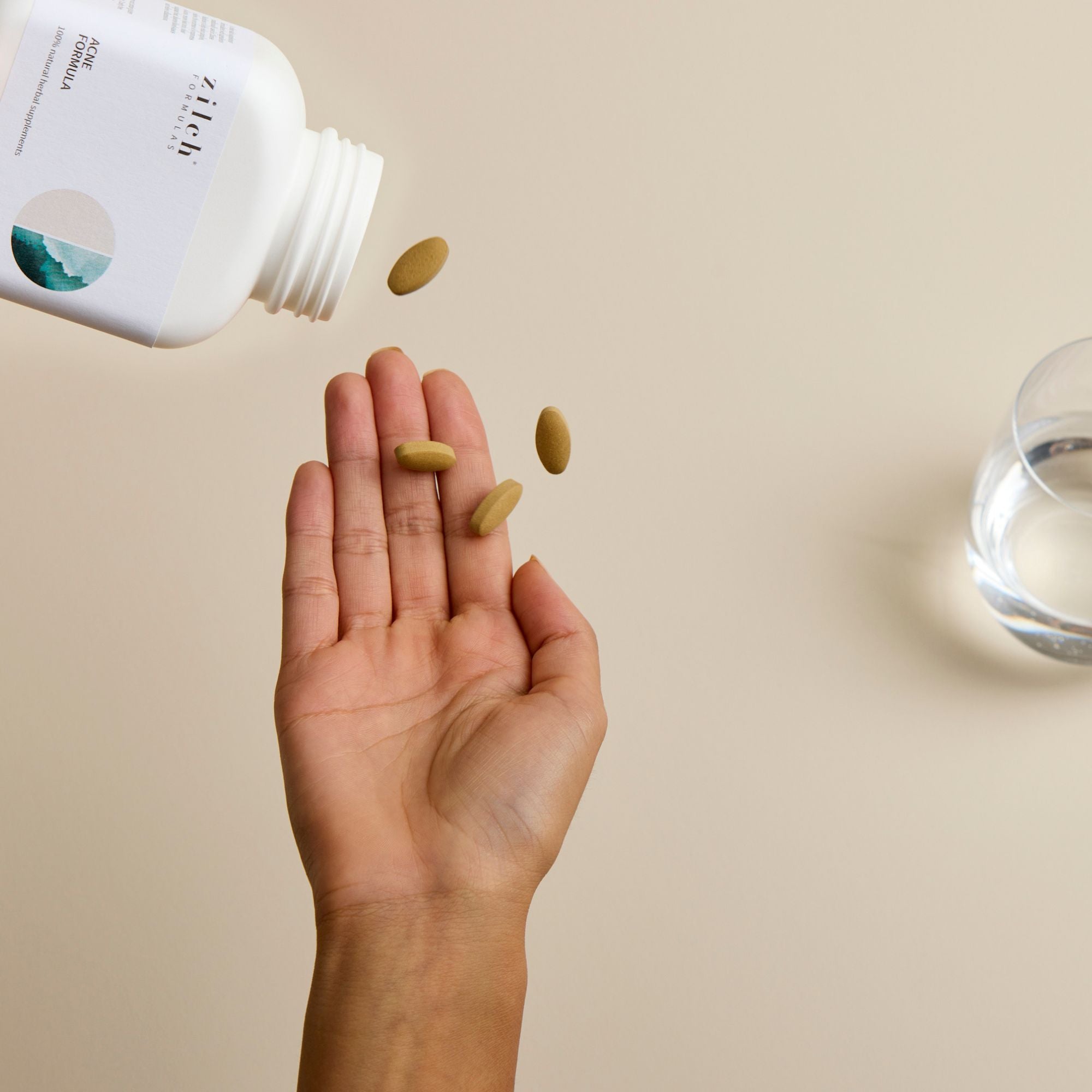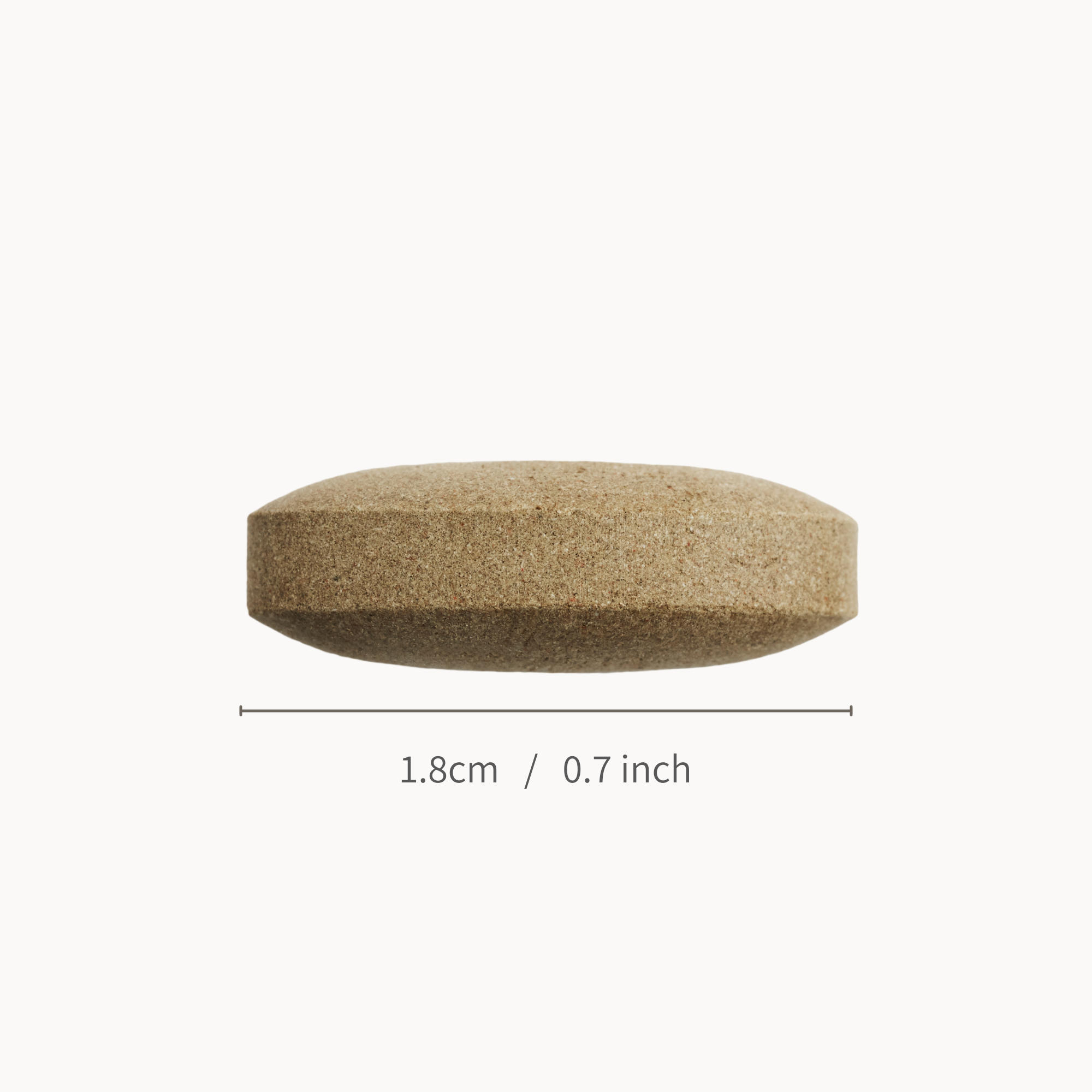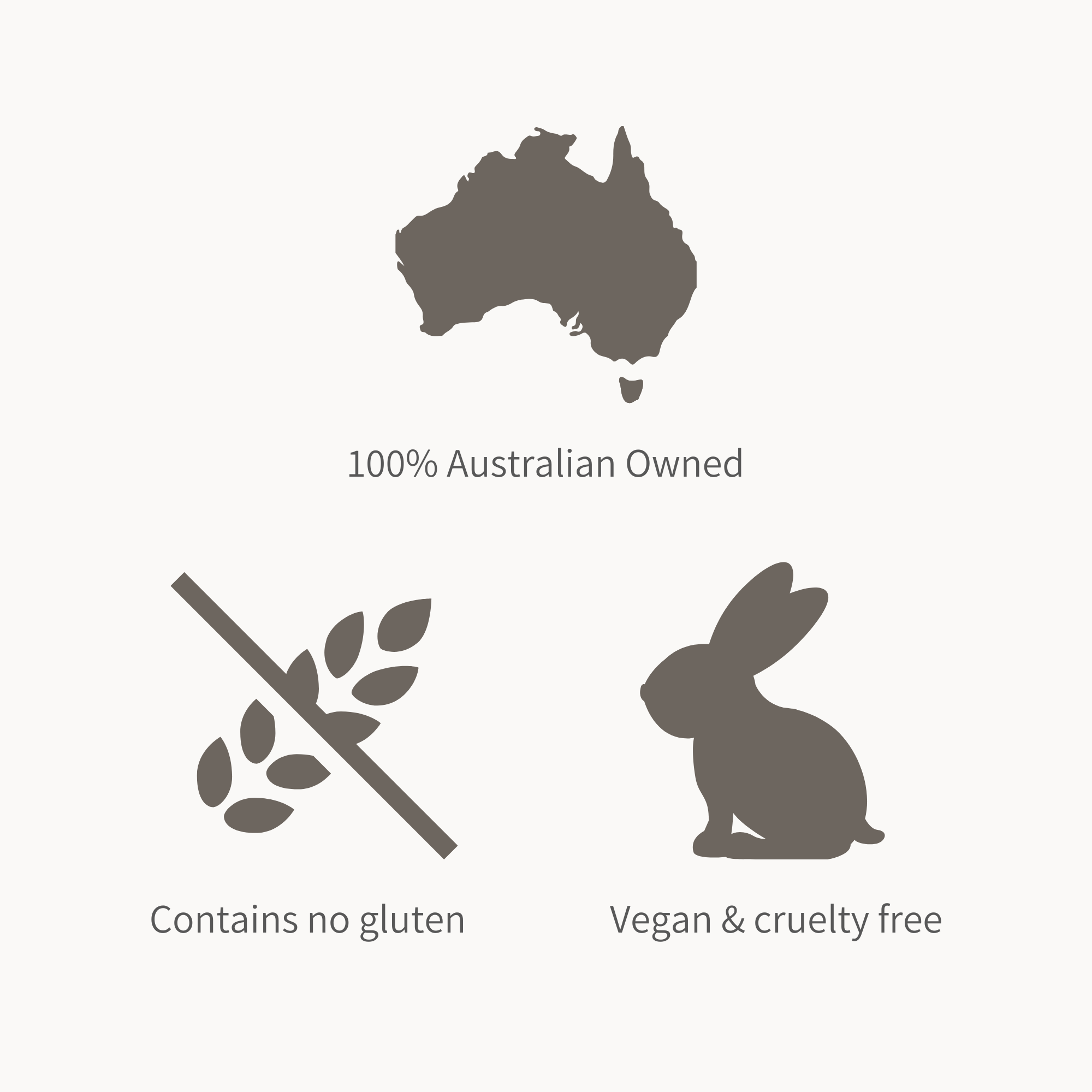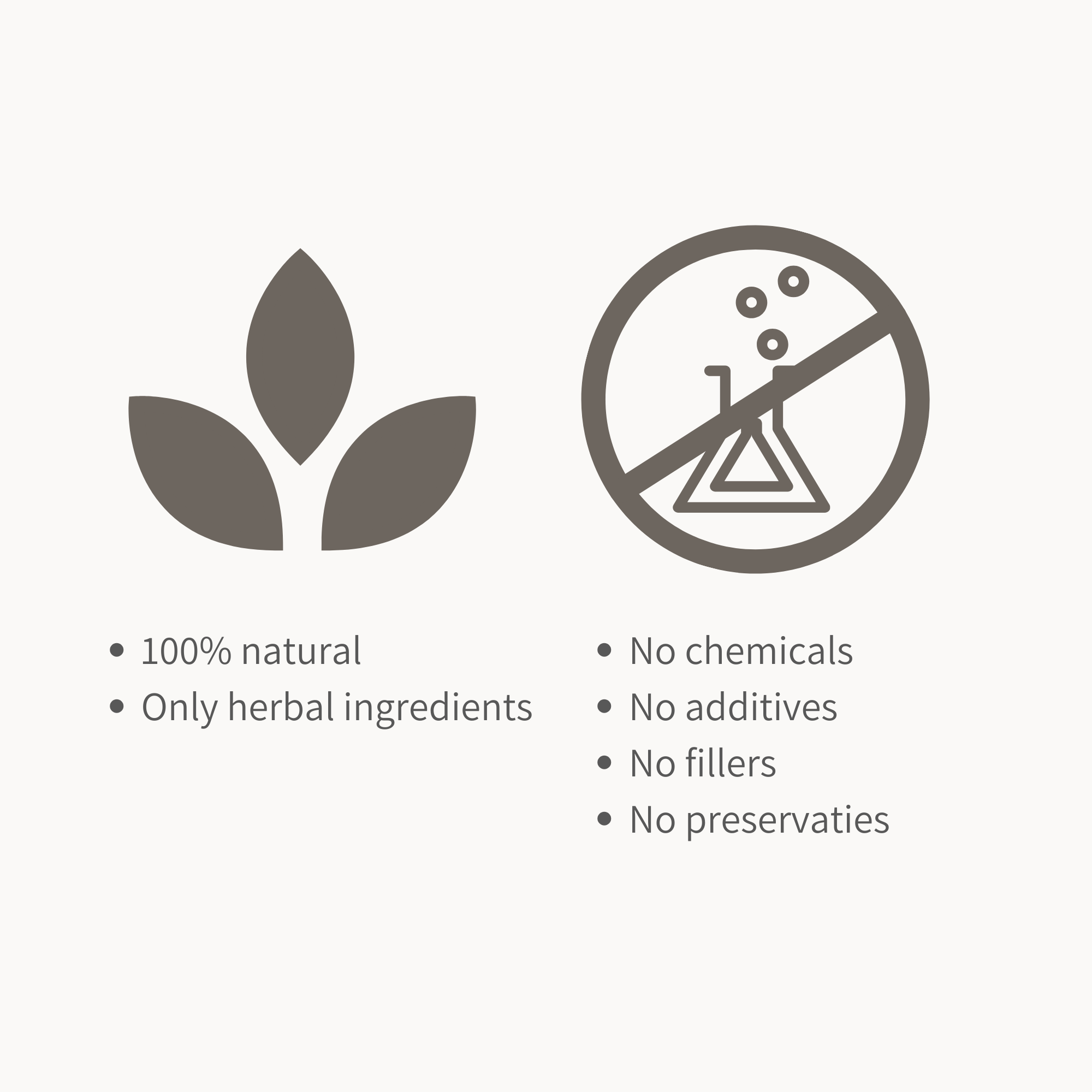 Ready to clear your skin for good?
Hear it from happy customers
"Honestly, though, I didn't have much faith after everything else had failed. But I'm so happy to say that this has made such an immense difference in my skin, thank you so so much for making this product!"
We only use genuine and unedited reviews and before and after pictures, from real users.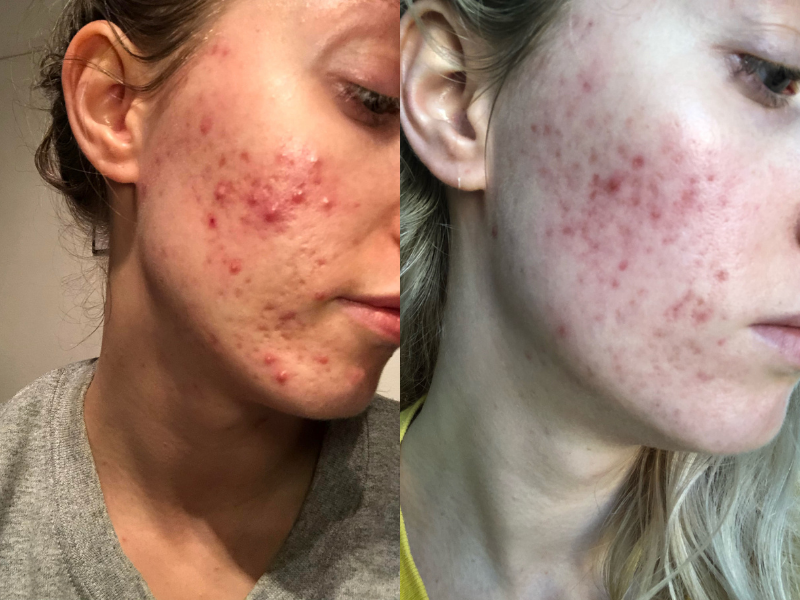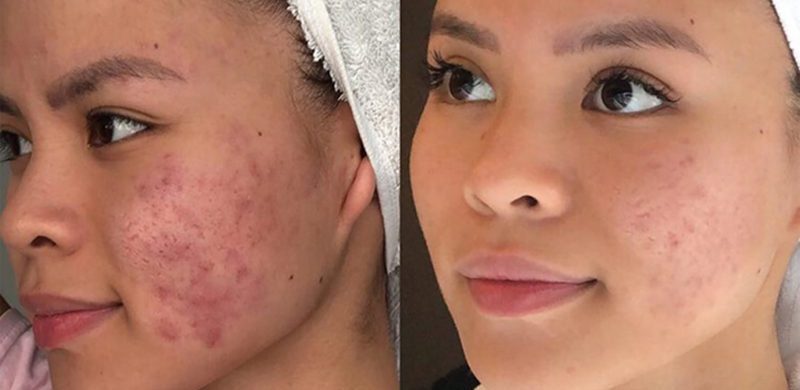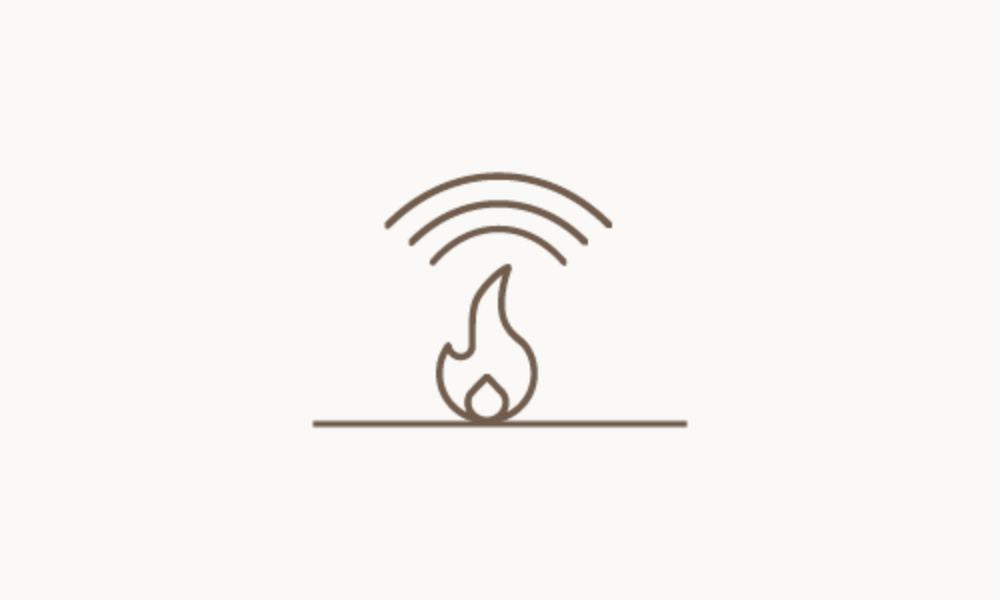 Reduces Inflammation
Powerful ingredients clear the heat that can cause inflammation, swelling and itching.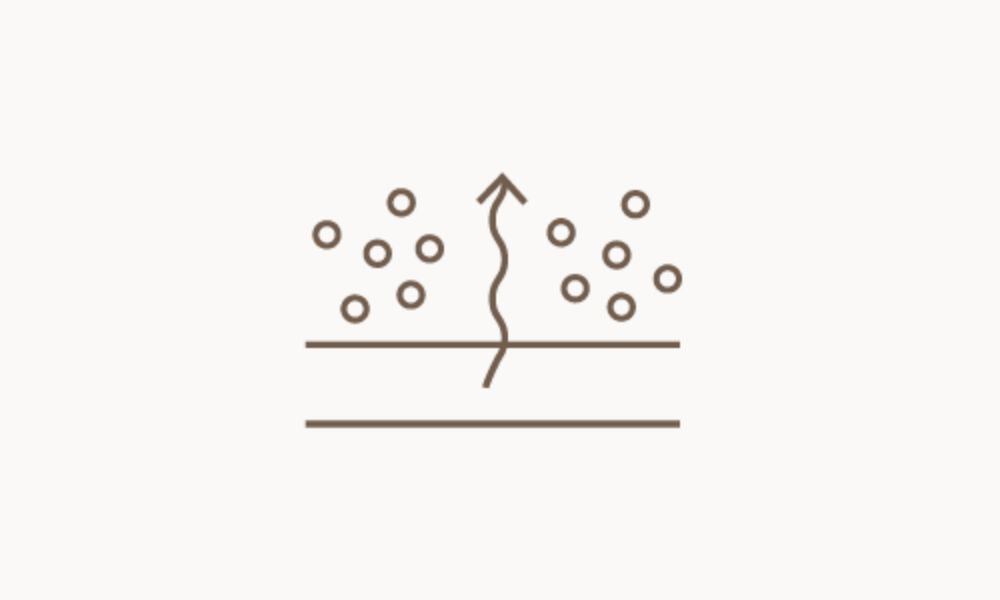 Removes Toxins
Ingredients support the body to eliminate toxin build up that can cause breakouts.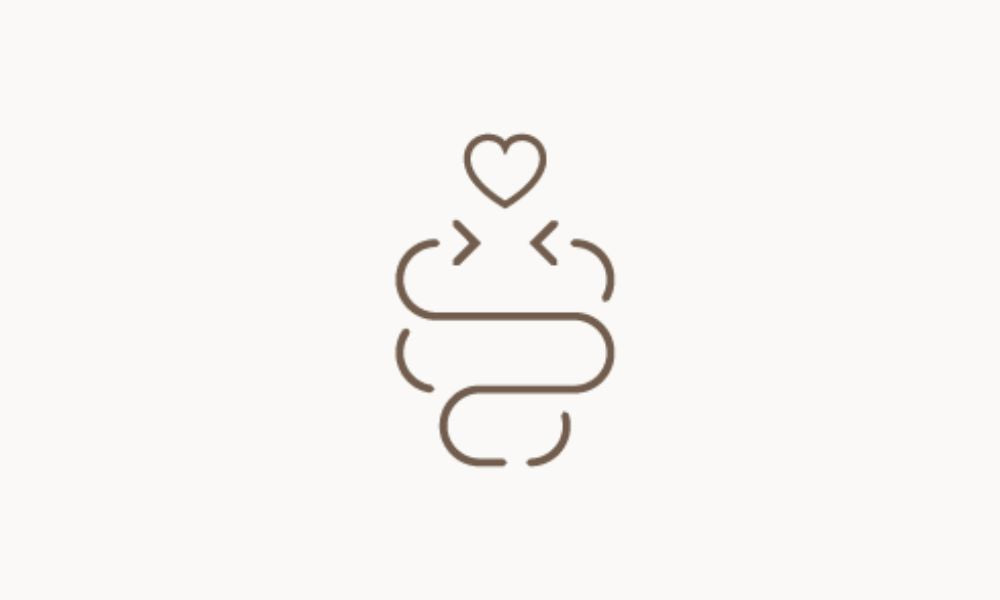 Boosts Blood Circulation
Promote circulation to break up blockages that are behind painful swelling.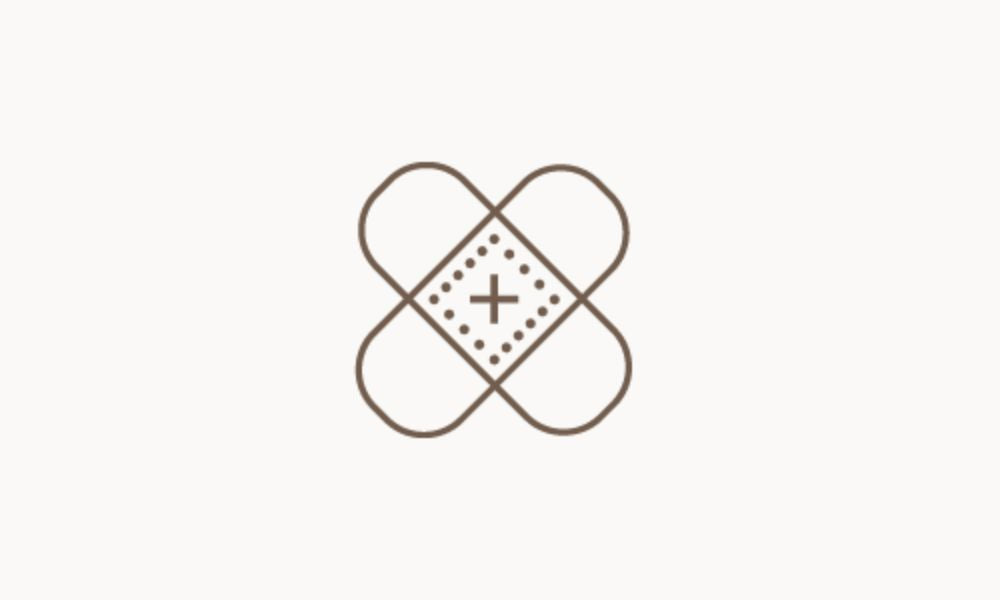 Support Healing
Promotes healing and supports healthy tissue repair.
We are tired of seeing acne treatments that come with unwanted effects and simply don't work.
Finally, something natural that helps you feel good,
and does what it says it does.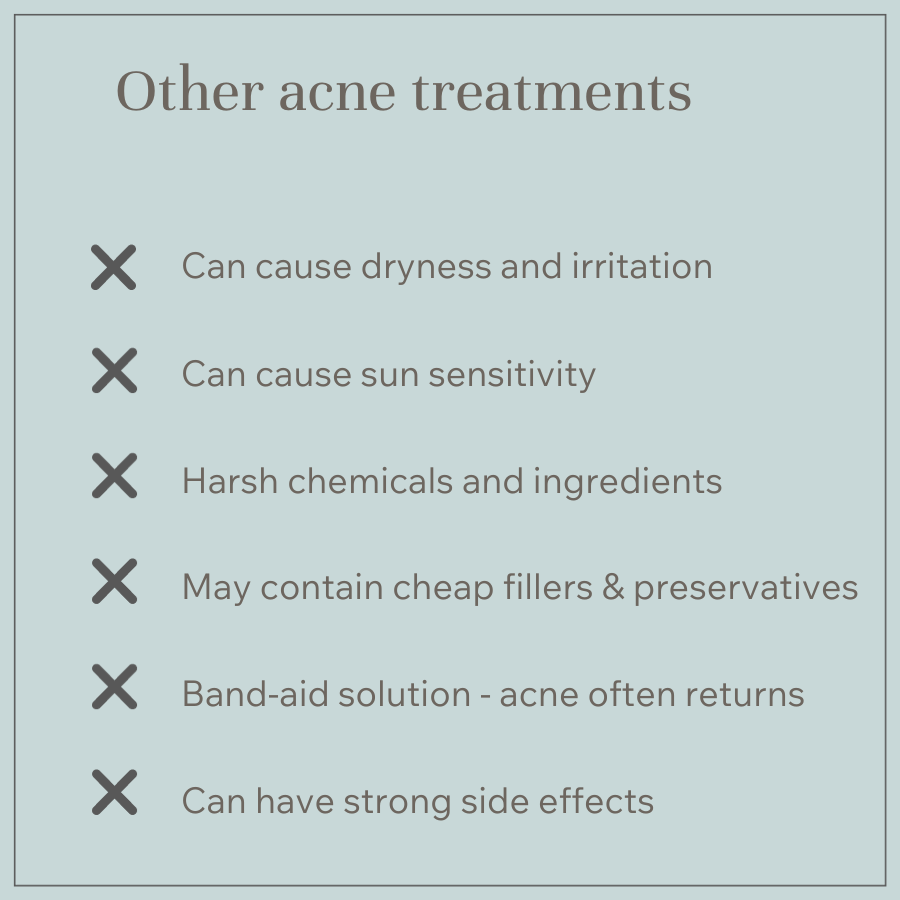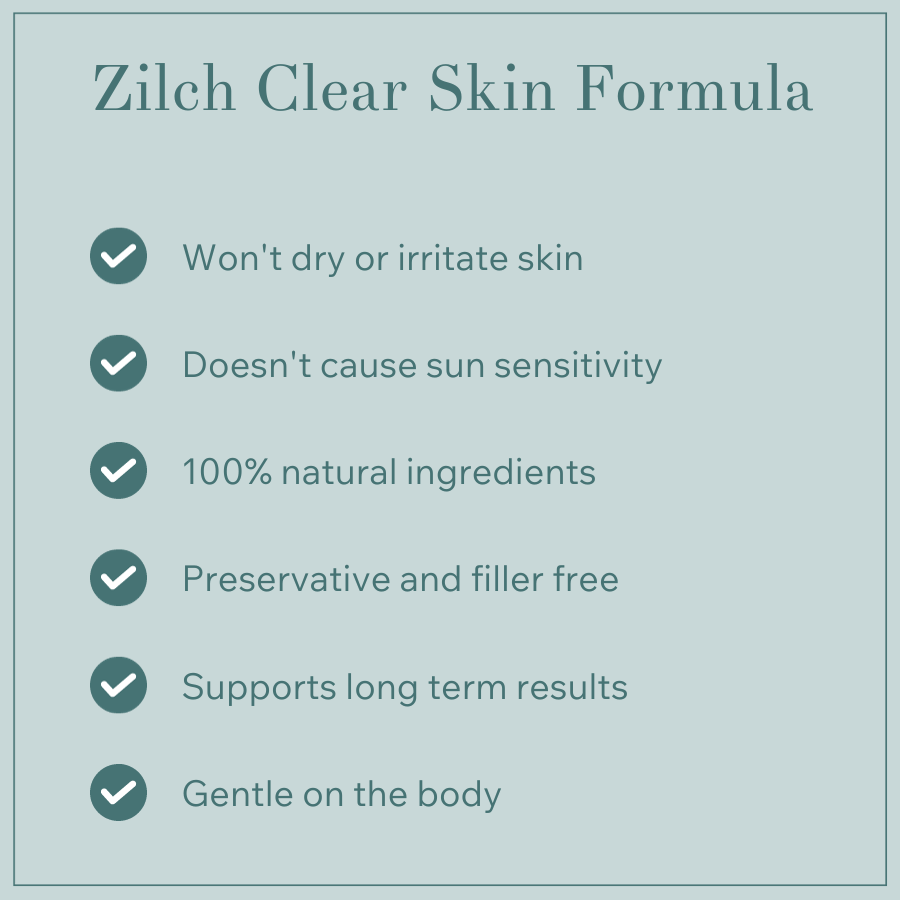 OUR CORE VALUES
The Zilch Formulas Difference
100% natural, truly.
Zilch Formulas formulas proudly contain only Chinese Medicine herbal active ingredients, and potato starch is used as a binder–that's all. Thanks to our highly specialised and unique extraction process, our formulas contain no nasties, chemicals, fillers or preservatives.
Nothing to hide.
We pride ourselves on our authenticity and approach everything we do with honesty and transparency. Our products are formulated by a Dr. of Chinese Medicine in a real clinic, our real user reviews are unscripted and unedited, and we are a genuine company looking to make a real difference.
Special extractions.
Our formulas are batch made from scratch with raw herbal ingredients. Our unique and highly specialised extraction process allows us to transform these herbs into potent and pure extracts without the use of any additives apart from potato starch. This whole process can take up to 4 months.
Giving back.
Wellness for all, compassion for all- we believe in creating a world of inclusive wellness that is kind to animals and cruelty-free. Zilch Formulas is committed to supporting animal welfare charities–we contribute an amount from every bottle sold.
A NOTE ON OUR REVIEWS
You may notice some of our reviews refer to photos that are not displayed. For privacy reasons, reviewers may for their features to be blocked out- these photos are are hidden from view until we process this request. You can see most of the before and after photos with their attached review on our instagram highlights or results page.
Kate P.

Verified Buyer

Reviewing

Zilch Acne Formula

What is your gender?

Female

What is your age range?

21-29

Great results

Saw results within first week, stayed the same then until about week 5/6 when started improving drastically, now 7 1/2 weeks in and such a massive difference, photos are from day 1 and current (71/2 weeks of taking 8 tablets a day). Wish I had this when I was a teen.

ZF

Zilch Formulas

2 days ago

Kate this is amazing. Thank you so much for sending in your review, and your photos. It is integral to our small business and we're so very thankful.
And wow! Especially that back photo - that is an amazing change! We're so thrilled to hear it's working well for you!

Adam D.

Verified Buyer

Reviewing

Zilch Acne Formula

What is your gender?

Male

What is your age range?

30-39

Finally something that works.

After suffering from cystic acne well into my thirties and many years with average results using Doxycycline, being introduced to Zilch was a life changer. My Doctor suggested I try the brutal Roaccutane and said that seeing a skin clinic was a waste of time... The skin clinic got me onto Zilch and some quality cleanser and moisturisers, with incredible results within weeks... Finally I was saved the embarrassment of significant skin blemishes and my confidence returned. I stopped using Doxycycline immediately. I have since recommended Zilch to others, with excellent feedback on their own life-changing outcomes.

ZF

Zilch Formulas

1 week ago

Hello Adam. Thank you so much for your amazing review, and taking the time to share your experience in using our product. You sound empowered, and we are so for that! Lots of gratitude also for spreading the word and recommending our brand to others - it means the world to our small business.

Natalie M.

Verified Buyer

Reviewing

Zilch Acne Formula

What is your gender?

Male

What is your age range?

30-39

Amazing results

I have only been using for two weeks and am already seeing major results. My skin is looking less congested and much cleaner and brighter as a result. Can't wait to see what it will look like at the end.

Terrible taste though!

Thomas S.

Verified Buyer

Reviewing

Zilch Acne Formula

Worked on my beard acne

I had acne throughout my beard - lucky for me it was not that visible, but it was painful and uncomfortable for me. Everytime I ate or yawned or stretched my mouth, I could feel them. They were sore, sometimes itchy and really big, like little boils under my skin. My GP told me they were ingrown hairs because of where they were, but I knew it was more than that because they were really wide spread...plus they weren't always there and I've had a beard for a long time. This cleared it up completely and I haven't got any discomfort anymore. Thank you Zilch and Vivian!

Emily P.

Verified Buyer

Reviewing

Zilch Acne Formula

Best acne product I've tried

I'm going to keep this really simple - this changed my acne like nothing else. I've suffered from acne on and off for nearly 20 years, from when I was a teenager. I have tried creams, and washes and even medications from my doctor (which helped, but not for long, acne just came back after a few months of finishing.) I waited to write this review, because I finished my bottle in June, and now it is October... skin is still calm and acne has not returned. Wish I found this sooner. Thank you so so so much for creating this product and I hope it helps others as it has helped me!
Reviews Loaded
Reviews Added